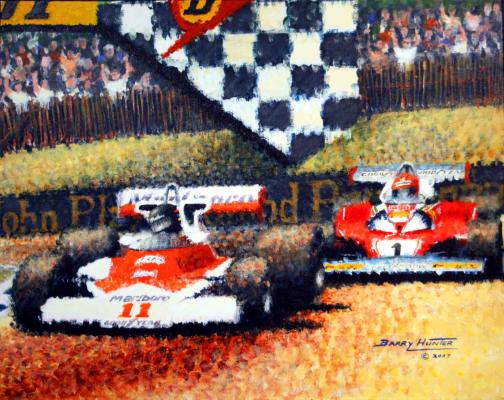 Hot Summer of '76
Medium:
Acrylic
Price:
Digital ~ inclusive of postage and packing
A2 images are on high quality heavy paper
A1 images are Giclcé prints on canvas
Click Buy Now button of the image you want, for secure Internet payment via PayPal
 
Paper Sizes Information See Section Index
A battle royal was brewing between McLaren and Ferrari by the time they got to the 1976 British Grand Prix at Brands Hatch. James 'Hunt-the-Shunt' soon lived up to his name and crashed at the first corner. A dispute as to whether or not he should take the re-start was settled by the crowd throwing beer-cans on the track. In the re-started race, arch-rival Niki Lauda in his Ferrari led until Hunt passed him into Druids hairpin to thunderous roar from the crowd and then went on to 'win' the race. He was later to be disqualified by the FIA's International Court of Appeal. After a lot more controversy 'Master James' was to take the 1976 World Championship by a single point.
---