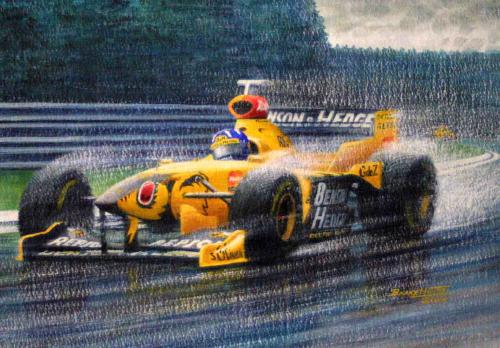 Damon's Delight
Medium:
Acrylic
Price:
Digital ~ inclusive of postage and packing
A2 images are on high quality heavy paper
A1 images are Giclcé prints on canvas
Click Buy Now button of the image you want, for secure Internet payment via PayPal
 
Paper Sizes Information See Section Index
Damon Hill won the World Championship in 1996 and had a disappointing year with Arrows in 1997. In 1998 Damon drove for Jordan and won the Belgian Grand Prix from team-mate Ralf Schumacher after a very long lean spell. The win delighted all his fans and gave Jordan their first Grand Prix victory. He is seen leading Ralf and Jean Alesi's Sauber through one of the very fast curves at a very wet Spa-Francorchamps.
---