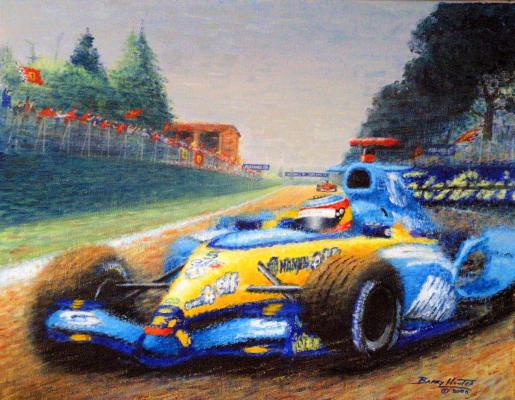 Changing the Guard
Medium:
Acrylic
Price:
Digital ~ inclusive of postage and packing
A2 images are on high quality heavy paper
A1 images are Giclcé prints on canvas
Click Buy Now button of the image you want, for secure Internet payment via PayPal
 
Paper Sizes Information See Section Index
Fernando Alonso won the 2005 San Marino Grand Prix at Imola after a tense struggle during the final laps. Michael Schumacher's Ferrari had chased down and passed Jenson Button's BAR-Honda and quickly caught Fernando Alonso's Renault. During the closing laps seven-time World Champion harried the young Spaniard, who calmly held on and repulsed all passing attempts. After an enormous build-up of tension and expectation the young pretender had been able to fairly and squarely beat the great man to a really big win in Ferrari's own back yard. Fernando is seen at the Variante Alta chicane hotly pursued by Michael Schumacher's Ferrari.
---